Bellagio Hotel Casino, Las Vegas, Nevada, USA: Review by Jacob Kanzen, editor ildado.com

Gaming times, type of gambling games, minimum bets and other facilities if shown, are indicative and may change.

Photo courtesy Bellagio Hotel & Casino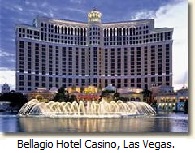 The Bellagio opened in 1998, in Las Vegas, Center Strip, and at that time was the most expensive hotel casino ever built at $1.6 billion. One of my favorite hotel casinos, possibly the world's best.
Bellagio Hotel Casino has it all: glamour, luxurious rooms, gourmet restaurants, elegant shops, all the casino games, professional gaming staff. The hotel most attractive features include: the Fountains of Bellagio, the Bellagio Gallery of Fine Art, Via Bellagio Shopping Arcade (the shops are on the second level at the entrance - luxury at its finest), the Conservatory, and the aquatic show 'O'.
General information
Current owner: MGM Mirage
Previous property on this site: The Dunes Hotel Casino
Interesting facts: It takes 115 persons to maintain the flowers and plants in the conservatory area. The Dale Chihuly (Artist) glass flower sculpture on the ceiling in the lobby features 2,000 individually-blown glass pieces and covers 2,000 square feet of ceiling. The fountains of Bellagio span 1,000 feet of water and soar as high as 240 feet in the air.
Hotel information
The Bellagio Hotel is a very pleasant place to stay. Spacious, appealing and romantic.
Rooms: 3025
Average weekday room cost: $85-125
Average weekend room cost: $180-400
Average size of room: 500 sq. feet
Casino information
A wide variety of slot machines. Professional table games staff and they don't hustle you for tips. Even though this place hosts high rollers, they will treat all players with the same respect. Whatever your passion, you're sure to find your game of choice at the Bellagio Hotel Casino.
Gaming tables: 200
Slot machines: 2400
Table games: roulette, craps, caribbean stud poker, let it ride, stud poker, pai gow tiles, pai gow poker, big six wheel, megabucks, three-card poker, and baccarat.
Keno: Full service Keno area, 45 seat, 24-hour non-stop action, Keno runners are also available in The Buffet at Bellagio during their business hours, win up to $250.000
Poker room: non-stop action and high and low limits, Texas Hold 'em and 7 Card Stud, $500 + $40 buy-in No Limit Hold 'em tournament every Friday at 5:00 p.m. Call the Bellagio Poker Room to inquire about game, table and tournament information at (702) 693-7290
Slot Club Comp: Awards nickel players and up. Phone: 1-888-987-5687,
Race & Sports Book: Sportsbook and Racebook wagering, state-of-the-art large-screens
Minimum gambling age: 21, You must be 18 years of age or a registered hotel guest to enter Bellagio. Exceptions apply.
Restaurant information
First class food in general. Dinner can get pricey.
Buffet at Bellagio - Cuisine: breakfast style; Cost per meal, $12-36; dress code: any attire. Fantastic buffet food.
Cafe Bellagio - 24 hour; Cost per meal: $10-30; dress code: any attire. Average food and service.
Circo - Cuisine: Italian; Cost per meal: $35-105; dress code: Men, Jacket and Tie; Women: Dress. Great lunch, good service. Not cheap.
Nectar - Cuisine: American; Cost per meal: $18-35; dress code: Men, Collar; Women, Dress/Suit. One of the best.
Picasso - Cuisine: French; Cost per meal: $75-125; dress code: Men, Jacket and Tie; Women, Dress. World class food, fantastic atmosphere.
Aqua - Cuisine: Seafood; Cost per meal: $35-75; dress code: Men, Jacket; Women, Dress/Suit. Great food, friendly service.
Jasmine - Cuisine: Chinese; Cost per meal: $45-125; dress code: Men, Collar; Women, Dress/Suit. Elegant dining and first class food.
Shintaro - Cuisine: Japanese; Cost per meal: $20-145; dress code: Men, Collar; Women, Dress/Suit. First class overall.
Le Cirque - Cuisine: French; Cost per meal: $35-105; dress code: Men, Jacket and Tie; Women, Dress. Classic French food at its best. Excellent service. Fantastic atmosphere.
Prime - Cuisine: Steakhouse; Cost per meal: $30-100; dress code: Men, Jacket; Women, Dress/Suit. Outstanding service and first class food. Fairly priced.
Noodles - Cuisine: Asian; Cost per meal: $25-55; dress code: Men, Collar; Women, Dress/Suit. Fine food and friendly service.
Olives - Cuisine: American; Cost per meal: $20-65; dress code: any attire. First class food, excellent service.
Bars & Clubs
Light - Nightclub
The unique and distinctive Bellagio nightclub. Dance, party, see and be seen at Las Vegas' hottest new nightclub - Light. Proper attire is required (no ripped clothes, jeans, shorts, tennis shoes).
Light brings an exciting new style of nightlife to Las Vegas with its plush, rich décor and European bottle service. Relax and take in the scene from private table seating surrounding the dance floor, providing you with premier viewing and easy access to the non-stop action.
Nightclub hours: Thursday - Sunday, 10:30 p.m. - 4:00 a.m. Reservations recommended, phone: 702-693-8300
Fontana Bar - Music: Jazz/Blues/Rock; Dress Code: Any attire
Caramel - Music: Jazz; Dress Code: Any attire
Petrossian Bar - Music: Piano; Dress Code: Any attire
Facilities
Spa, Salon - Plush new facility including a variety of treatments and salon services.
Hours: 6am-8pm daily, Hotel guests only
Wedding Chapel - Yes
Pool - Yes
Health Club - Yes
Shops - Yes
Convention rooms - Yes, 45,000-square-foot Grand Ballroom, 22,000-square-foot Bellagio Ballroom and 14 meeting rooms ranging in size from 1,000 to 10,000 square feet.
Business Center - Yes, full service business center.
In-room computer data port - Yes
Wheelchair accessible rooms - Yes
Child care facilities - No. You must be 18 years of age or a registered hotel guest to enter Bellagio. Guests over 5 years of age and under 18 must be accompanied by an adult.
Pets - Not allowed
Room service - Yes
Amenities - Room amenities: Air conditioning, alarm clock, cable TV, concierge service, hair dryer, iron and ironing board, twice-daily housekeeping service and minibar. Hotel amenities: same-day laundry and dry cleaning, concierge service.
RV park - No
Parking Garage - Yes
Valet Parking - Yes
Shuttle Service - Tram to Monte Carlo Casino, free. Shuttle service to the airport available for a fee from an outside company.
Special attractions
Fountains of Bellagio - Show
You will be swept away by this breathtaking union of water, music and light. Experience the most ambitious, commanding water feature ever conceived. Bellagio's world-famous romantic fountains 'dance' to the sound of opera, classical and whimsical music with carefully choreographed movements.
Showtimes:
Monday - Friday 3:00 p.m. - 7:00 p.m. every 1/2 hour; 7:00 p.m. - 12:00 a.m. every 15 minutes
Saturday & Sunday 12:00 p.m. - 7:00 p.m. every 1/2 hour; 7:00 p.m. - 12:00 a.m. every 15 minutes
Bellagio Conservatory - Atrium
With its botanical gardens, the Bellagio has created its very own masterpiece. The conservatory is conveniently located next to the parking garage, restrooms and lobby. The picturesque arrangements, water fountains, and pagoda make the conservatory a perfect spot to snap a photo. The restaurant Aqua has a patio facing the garden. Patrons can also reach the spa and salon through the conservatory.
The garden is a seasonal display of about 7,500 plants, trees and flowers that is changed for the holidays six to eight times a year. The process of changing over a display takes about three days.
Entertainment
'O' - Cirque Du Soleil - Show
With an international cast of 81 artists, performing in, on and above a 1.5 million gallon pool of water, Cirque du Soleil's first venture into aquatic theater has been seen by more than 2 million spectators and has earned the acclaim of journalists from around the world.
'O' (the name of the show, apparently derived from the French word 'eau' meaning water and pronounced 'o') by Cirque du Soleil (the producers) tells the tale of theater through the ages and embarks us on a 90-minute voyage where dreams seem to come true. Las Vegas Review-Journal recently honored 'O' as the best production show for the second year in a row.
Tickets for 'O' are $110, $90, and $85, plus tax, and are currently on sale up to three months in advance. To reserve by phone, call 888-488-7111 or 702-796-9999 or visit any of the local ticket offices located at Bellagio, Treasure Island or The Mirage. Two shows are held nightly Friday through Tuesday at 7:30pm and 10:30pm.
Address
Bellagio Hotel & Casino, 3600 S. Las Vegas Blvd., Las Vegas, NV 89109, USA. Telephone: Room Reservations 888-987-6667, General Information 702-693-7111, E-mail: guestservices@bellagiolasvegas.com, Website: www.bellagio.com
Employment Office: Write to P.O. Box 7700, Las Vegas, Nevada 89177-7700, USA.
[Nov 2007 last update. Reviewed Jan 2003]
Rating:

One of the best!
See "Casino Reviews" Index page
Land Casinos Directory (Main Index)
---
Great gambling information site
Use the "Main Menu" on the top right margin to explore this site. This is a comprehensive gambling information site with advice on winning, how to gamble, Betting systems, gambling articles, world land-based casinos directory, casino reviews (reviewed and rated), the best Online casinos, free online games, and lots of gamblers information and resources.
Topics covered include game rules, how to play, how to win, betting strategies, gambling tips, glossary, on: Blackjack, Roulette (showing Table layouts of American, European and French roulettes and also the fast-play Roulite version), Poker classic and variants including Texas hold'em and Let-it-ride, Craps (dice game), Jackpot slots, Videopoker, Video games, Baccarat, Keno, Lotto/Lottery, Powerball, Bingo, Sports betting, Horse and Greyhound racing (including racetracks, race programs and results), and new gambling games.
This is the gambling website with lots of information and resources as well as helpful advice and frequent updates thanks to your helpful feedback.