Casino games: Rules, how to play, how to win - Index page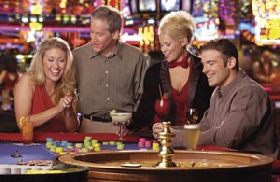 Baccarat all about Baccarat (Punto Banco), including a summary on Chemin De Fer.
Bingo all about Bingo, including patterns and nicknames.
Blackjack all about Blackjack, including a note on card counting.
Craps all about Craps, including the House Edge breakdown.
Keno all about Keno.
Poker all about Poker, including a three-page glossary.
Roulette all about Roulette, American and European, single zero and double zero.
Slots all about Slots and Videopoker.
---
Great gambling information site
Use the "Main Menu" on the right margin to explore this site. This is a great comprehensive gambling information site with advice on winning, how to gamble, betting strategies, gamblers information and tips, world land-based casinos directory and the primary listing of the best online casinos.
Topics covered include game rules, how to play, how to win, winning strategy, betting systems, gambling tips, glossary (terminology), on: Blackjack, Roulette, Poker classic and variants, Craps, Slots and Videopoker, Baccarat, Keno, Lottery, Powerball, Bingo, Sports betting, Horse racing, Greyhound racing, and other new games.
This is the gambling website with lots of information and resources as well as helpful advice and frequent updates thanks to your helpful feedback.