Double down stud poker:
Other Games (Main Index)
Game summary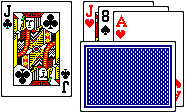 Double down stud is another variation of the poker game. It is similar to 'let it ride'.
Each hand is dealt from a single deck of cards. The players make an initial bet. Then the dealer gives each player one card face up and deals four community cards, three up and one down.
Each player has the option to double their initial bet or not. Then the dealer turns over the down card. A hand below a pair of 6 loses. The winning hands are paid as follows:
Medium pair, 6 to 10: is a Push
High pair, Jack / Ace: pays 1 to 1
Two pair: pays 2 to 1
Three of a kind: pays 3 to 1
Straight: pays 5 to 1
Flush: pays 8 to 1
Full house: pays 11 to 1
Four of a kind: pays 50 to 1
Straight flush: pays 200 to 1
Royal flush: pays 2000 to 1
Other Games (Main Index)
---
Great gambling information site
Use the "Main Menu" on the right margin to explore this site. This is a comprehensive great gambling information site with advice on winning, how to gamble, betting strategy, listing the best online casinos and world land-based casinos directory.
Topics covered include game summary, rules, how to play, how to win, game strategy, betting systems, gambling tips, on: Blackjack, Roulette, Poker classic and variants such as Texas Hold'em poker, Craps/Dice, Slots and Videopoker, Baccarat, Keno, Lottery, Powerball, Bingo, Sports betting, Horse racing and Greyhound racing, and other casino games.
This is the gambling website with lots of information and resources as well as helpful advice and frequent updates thanks to your helpful feedback.

Advice
Resources
Facilities
Home ¬ Start here!
All about...
---