Salvadoran land-based gambling casinos and cardrooms listing: Listed by City/Province

El Salvador, Central America land casinos listed by area: (In the El Salvador casino listings, gaming times, type of games, minimum bets, promotions, services, facilities etc., if shown, are indicative and may change.)
See useful information on El Salvador

below on this page, at the end of the land casinos listing.
San Salvador - There are 3 listed land-based gambling casinos in San Salvador.
Casino Colonial (formerly, Crown INC. Casino),
Calle del Mediterraneo, Col. La Sultana, Ex. Cine Colonial, Old Cuscatlán, San Salvador, 1874, El Salvador. Casino Phone: (503) 2211-0408, Email: info@casinoscolonial.com, Website: www.casinoscolonial.com
Nearest Airport: Comalapa International Airport (SAL)
Minimum Gaming Age: 21
ID/Passport: Required
Dress Code: Smart/Casual
Opening Times: Open 24 hours Monday to Sunday
Gaming Currency: US Dollar
Games to play: Jackpot Slots/Video Machines, Electronic Bingo; Live table games: Roulette, Blackjack, Caribbean Stud Poker, Pai Gow Poker; Cardroom: Texas Hold'em Poker, Tournaments
Facilities: Bar, Promotions, VIP Salon, Parking
[Dec 2008 last update]
Hold-em Club de las Americas (Cardroom),
Centro Comercial La Joya #37 y 38, Santa Tecla, San Salvador, Carretera a la Libertadad, El Salvador. Casino Phone: 503-224490-874, Contact name: Alan Leon, Email: holdemclub.lasamericas@hotmail.com
Nearest Airport: Comalapa International Airport (SAL)
Minimum Gaming Age: 18
Membership: Not Required
Registration: Not Required
Entrance Fee: Free
ID/Passport: Not Required
Dress Code: Casual
Opening Times: 2PM-5AM
Gaming Currency: USD
Games to play: Live table games: Texas Holdem Poker
Facilities: Snack bar, bar, parking, 24 hr security, Smoking permitted, Private VIP tables, Major Credit Cards accepted
Remarks: Established in December 2008 Hold-em Club de las Americas is the ultimte destination in El Elsavador dedicated to Texas Holdem poker. We currently offer live cash games, sit and go's, and multitable tournaments of all levels. Hold-em Club is centrally located in the region of Santa Tecla, and is the only true card room in the entire country. Hold-em Club has 10 poker tables open daily. Be sure to visit during our weekly freeroll tournament every Thursday night!
[Dec 2008 last update]
Siesta Hotel & Casino, Final Boulevard Los Proceres, San Salvador, El Salvador. Phone: +503 2283 0100, Fax: +503 2283 0125, Website: www.hotelsiestaelsalvador.com
Awaiting update information
Santa Ana - There is 1 listed land-based gambling casino in Santa Ana.
Monte Carlo Club, Central Ville, Santa Ana, El Salvador. Casino Phone: 503 440 2877
Awaiting update information

Useful information on El Salvador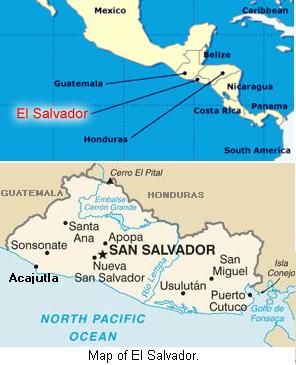 Capital city: San Salvador
Official language: Spanish
Currency: The US dollar became El Salvador's currency in 2001 following the elimination of its own currency (Salvadoran Colon). Although some prices are still quoted in the Salvadoran Colon, payment is expected in Dollars. The exchange rate is fixed at 1 USD = 8.75 Salvadoran Colon. You are advised to bring some low denomination US dollar notes as US$50 and US$100 notes may not be accepted in many smaller restaurants and shops, in bars and by taxi drivers. Pounds sterling (GBP) cannot be exchanged anywhere in El Salvador.
General: El Salvador (Republic of El Salvador) is located in Central America, bordering the North Pacific Ocean, Guatemala and Honduras, and is one of the smallest countries in Central America. El Salvador achieved independence from Spain in 1821 and from the Central American Federation in 1839. A 12-year civil war ended in 1992 when the government and leftist rebels signed a treaty that provided for military and political reforms. The Internet domain ending is .sv and the International dialing code is +503
Major cities: San Salvador (capital city), Santa Ana, San Miguel, Ahuachapan, Nejapa, Sonsonate, San Vincente.
Airports: The only airport serving international flights in the country is Comalapa International Airport (airport code: SAL). This airport is located in Comalapa, about 30 minutes southeast of the capital San Salvador. The airport is commonly known as Comalapa International or El Salvador International.
Motoring: When travelling by car, it is safer to travel on main roads between major cities and destinations. You are at greater risk of attack in remote areas with fewer Police patrols. The main highway through El Salvador is being brought up to international standards. The other main routes to Honduras are in good condition. Some roads, however, are in poor condition and can be dangerous to drive on. Care should be taken whatever road is used as the standard of driving is low. Take simple precautions such as locking doors and keeping windows closed whilst travelling.
Transportation: The public bus system in San Salvador is decent, and is the cheapest way to get around San Salvador and to other El Salvador destinations. Taxis are everywhere and it is advisable to negotiate a rate before climbing in the cab. Using a reputable tour company for longer journeys may reduce the risks associated with travel on these buses. It is safer to travel short distances in radio-equipped taxis or hotel taxis.
[Dec 2008 last update]
Land Casinos Directory (Main Index)
---
Great gambling information site
Use the "Main Menu" on the top right margin to explore this site. This is a comprehensive gambling information site with advice on winning, how to gamble, Betting systems, gambling articles, world land-based casinos directory, casino reviews (reviewed and rated), the best Online casinos, free online games, and lots of gamblers information and resources.
Topics covered include game rules, how to play, how to win, betting strategies, gambling tips, glossary, on: Blackjack, Roulette (showing Table layouts of American, European and French roulettes and also the fast-play Roulite version), Poker classic and variants including Texas hold'em and Let-it-ride, Craps (dice game), Jackpot slots, Videopoker, Video games, Baccarat, Keno, Lotto/Lottery, Powerball, Bingo, Sports betting, Horse and Greyhound racing (including racetracks, race programs and results), and new gambling games.
This is the gambling website with lots of information and resources as well as helpful advice and frequent updates thanks to your helpful feedback.

Advice
Resources
Facilities
Home ¬ Start here!
All about...
---