Gibraltarian land-based gambling casinos listing: Listed by City/Province

Gibraltar, Western Europe land casinos listed by area: (In the Gibraltarian casino listings, gaming times, type of games, minimum bets, promotions, services, facilities etc., if shown, are indicative and may change.)
See useful information on Gibraltar

below on this page, at the end of the land casinos listing.
Reviewed casinos in Gibraltar: 1 review. Star ratings *** Good, **** Very Good, ***** Best.
Gala Casino Gibraltar****
Gibraltar - There is 1 listed land-based gambling casino in Gibraltar.
Gala Casino Gibraltar,
Ocean Village Marina, Gibraltar. Tel: 00350 200 76666 (24 hour), Fax: 00350 200 52712, Email: stuart.kirkpatrick(at)galacasino.co.uk, Manager: Stuart Kirkpatrick, Website: www.galapokergibraltar.com, www.galacasino.co.uk
Direction: Once you reach Gibraltar, simply head towards OCEAN VILLAGE. Gala Casino can be found on the Marina front.
Nearest Airport: Gibraltar Airport, about 500 meters, Malaga Airport (Spain), 120 km
Minimum Gaming Age: 18
Entrance Fee: Free
ID/Passport: Not required
Dress Code: Smart but casual in the hard gaming area of the casino. Relaxed elsewhere.
Opening Times: Daily, Table games from 20.00 to 04.00, Slot Zone from Midday, Bingo from 5pm
Gaming Currency: GIP and GBPounds, Euros are accepted
Games to play: 158 Jackpot Slots/Video Machines, Electronic Touchbet Roulette (minimum bet from 10p); Live table games (11): 5 American Roulette (minimum bet 50p), Blackjack (minimum bet from £3), 3-card Poker (minimum bet £1); Cardroom poker (5 tables): Texas Hold'em (Thursday, Friday, Saturday, Sunday); Other games: Bingo Hall; Coral Sports Betting
Facilities: Restaurant (chargrill), 2 Bars, Smoking allowed in casino & bingo zone, Valet parking from 8pm, Coral Sports lounge, VIP high stakes area, Casino Magic & Poker Zones, Lounge area
Remarks: Gibraltar adjoins the southern coast of Spain at the western end of the Mediterranean. In order to be allowed past the border into Spain you will be required to be in possession of a valid passport (except EU nationals who are in possession of a valid national identity card). The land frontier is open 24 hours a day, seven days a week and there are no limits on the number of frontier crossings you can make. There is no charge to enter Gibraltar. La Linea is the border town between Spain and Gibraltar (the land frontier) and is just a five minute walk away from La Linea Bus Station. British and EU Nationals don't require a Visa to enter Gibraltar. To check if you require a Visa, click here. If you need directions or any help to get to Gala Casino, just call the casino on 00350 200 76666 and ask them.
Review - Editor's personal experience at the Gala Casino Gibraltar:
This is a medium/large, very nice and popular casino on two floor levels. On the ground floor there are slot machines, electronic touchbet roulette, cardroom area, Coral sports betting terminals, a bar and the reception. On the first floor there are table games, slot machines, electronic touchbet roulette, a bingo hall, a bar and the Chargrill restaurant. The food is good at very reasonable prices and the service is very good. The management and the casino personnel are very friendly and very helpful. Smoking is allowed in the gaming area and the restaurant. Currently on the casino website they are offering a short break package to Gibraltar - flights and 3 nights stay - starting from £179. I think it is worth considering this short break package to Gibraltar and if you do go I think you will enjoy it. Call the casino for details and availability on 00350 200 76666.
Rating: Very good casino!
[February 2010 last update. Reviewed February 2010]
Go to top of this page . See "Casino Reviews" Index page

Useful Information on Gibraltar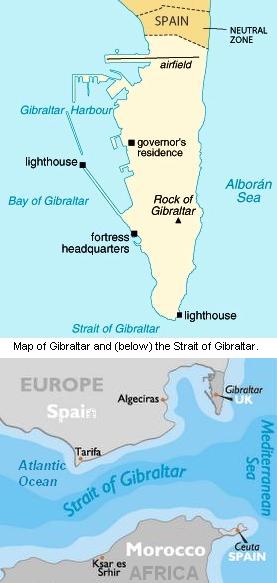 Capital city: Gibraltar
Official language: The sole official language of Gibraltar is English, and it is used by the Government and in schools. Most locals are bilingual, also speaking Spanish, due to Gibraltar's proximity to Spain.
Currency: Gibraltar Pound (GIP). The Government of Gibraltar issues banknotes that are legal tender alongside Bank of England banknotes in Gibraltar. Gibraltar banknotes in circulation bear the words 'Pounds sterling'. Most retail outlets in Gibraltar unofficially accept the Euro.
General: Gibraltar (known as the the 'Rock' - the most famous geographical landmark in Gibraltar) is a self-governing British overseas territory located on the southern end of the Iberian Peninsula where Europe meets Africa (only 15 miles distance from the African coast), overlooking the Strait of Gibraltar which provides the only link between the Atlantic Ocean and the Mediterranean Sea. Gibraltar covers 2.5 square miles (6.5 sq. km), making it the fourth-smallest nation or territory in the world, and is the 5th most stable territory worldwide, and the highest ranked British territory. Gibraltar receives a large number of visits from cruise ships, and the Strait of Gibraltar is one of the busiest shipping lanes in the world. As a VAT-free jurisdiction, Gibraltar's popularity with visitors is enhanced by its good value shopping experience in the famous Main Street. Telephone country code: +350, Electricity: 240V, 50Hz, Internet: .gi
Airports: Gibraltar Airport (GIB) is the civilian airport that serves the British overseas territory of Gibraltar. The most popular alternative airport for Gibraltar is Malaga Airport in Spain, some 120 km to the east, which offers a wide range of destinations.
Transport: The main form of transport in Gibraltar is the car. Motorbikes are popular and there is a good modern bus service. There is a cable car which runs from ground level to the top of the rock. There are no train or tram services within Gibraltar.
Taxis: The Gibraltar Taxi Authority operates the white taxis throughout Gibraltar - good for short journeys and also guided tours of the Rock. The standard tour includes visits to the Great Siege Tunnels, the Moorish Castle, St Michael's Cave, the Barbary Apes (monkeys) and Europa Point.
Buses: Buses from Spain stop just short of Gibraltar in La Línea, but its bus station is only 5 minutes walk from the border. After walking across the border, you can get the number 9 bus to the centre of Gibraltar, or the number 3 bus to Europa Point. Both buses depart every 15 minutes on weekdays, and every half hour on weekends. Buses run from 6.30AM to 9PM Monday - Friday, 7AM - 9PM Saturday, and 8AM - 9PM on Sundays. Trips are just 60p, no matter how far you travel. Alternatively, it is only a 10 minutes walk (across the runway and through a tunnel under the city walls) from the border to the main Casemates Square.
Ferries: Ferries operate to various destinations in the Mediterranean including a regular service to Tangiers in Morocco.
[February 2010 last update]
Land Casinos Directory (Main Index)
---
Great gambling information site
Use the "Main Menu" on the top right margin to explore this site. This is a comprehensive gambling information site with advice on winning, how to gamble, Betting systems, gambling articles, world land-based casinos directory, casino reviews (reviewed and rated), the best Online casinos, free online games, and lots of gamblers information and resources.
Topics covered include game rules, how to play, how to win, betting strategies, gambling tips, glossary, on: Blackjack, Roulette (showing Table layouts of American, European and French roulettes and also the fast-play Roulite version), Poker classic and variants including Texas hold'em and Let-it-ride, Craps (dice game), Jackpot slots, Videopoker, Video games, Baccarat, Keno, Lotto/Lottery, Powerball, Bingo, Sports betting, Horse and Greyhound racing (including racetracks, race programs and results), and new gambling games.
This is the gambling website with lots of information and resources as well as helpful advice and frequent updates thanks to your helpful feedback.

Advice
Resources
Facilities
Home ¬ Start here!
All about...
---