Guatemalan land-based gambling casinos listing: Listed by City/Province

Guatemala, Central America land casinos listed by area: (In the Guatemala casino listings, gaming times, type of games, minimum bets, promotions, services, facilities etc., if shown, are indicative and may change.)
See useful information on Guatemala

below on this page, at the end of the land casinos listing.
Guatemala City - There is 1 listed land-based gambling casino in Guatemala City.
Fantastic Casino,
Centro Comercial Los Proceres, Cuarto Nivel, Zona 10, Guatemala, PBX 2362-6000. Phone: +502-2362-6000, Email: fantastic@mayafun.com, Website: www.casinosdeguatemala.com/eventos.htm
Nearest Airport: Guatemala City La Aurora International Airport (GUA), 6 km
Minimum Gaming Age: 18
Entrance Fee: Free
ID/Passport: Required
Dress Code: Smart/Casual
Opening Times: Daily 10am to 2am
Games to play: Jackpot Slots/Video Machines, Electronic Roulette, Derby Horse Racing; Live table games: Card games
Facilities: Entertainment, Promotions
[December 2009 last update]

Useful Information on Guatemala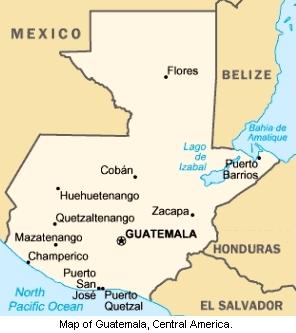 Capital city: Guatemala City
Official language: Spanish
Currency: The Guatemalan quetzal, also denoted by GTQ, is Guatemala's original national currency whose name stems from the country's official bird, the quetzal. The quetzal, which is divided into 100 centavos, acquired a parallel legal currency with the USD in May 2001, and the US dollar is the only foreign currency that is freely exchangeable in Guatemala. The major currency exchange rates (on January 17, 2010) are: 1 USD = 8.37 GTQ, 1 EUR = 12.03 GTQ, 1 GBP = 13.64 GTQ
General: Guatemala (República de Guatemala) is located in the northernmost of the Central American nations. Its neighbours are Mexico on the north and west, and Belize, Honduras, and El Salvador on the east. The country consists of three main regions: the cool highlands with the heaviest population, the tropical area along the Pacific and Caribbean coasts, and the tropical jungle in the northern lowlands (known as the Petén). The Mayan civilization flourished in Guatemala and surrounding regions during the first millennium A.D. After almost three centuries as a Spanish colony, Guatemala won its independence in 1821. International telephone country code: +502, Internet: .gt
Major cities: Guatemala City (capital city and largest), Mixco, Villa Nueva, Quetzaltenango, Escuintla
Major international airport: Guatemala City La Aurora International Airport (GUA). The airport is situated four miles (6km) south of Guatemala City, and about 16 miles (25km) from Antigua. There is an airport shuttle bus, which meets most flights and drops off at the major hotels. Bus 32 leaves for the city centre every 30 minutes and buses leave regularly from Guatemala City to Antigua (about 1 hour journey time).
Local travel: You can obtain up-to-date security information through INGUAT (see www.visitguatemala.com website, service available in English), the Guatemalan Tourist Institute. INGUAT's tourist assistance service, ASISTER, can be reached on (502) 2421 2810 and (502) 5578 9836. You may also dial 1500 in Guatemala. Guatemala has one of the highest violent crime rates in Latin America. Although the majority of serious crime involves local gangs and does not occur in tourist areas, violent attacks on tourists, including carjacking, assault, armed robbery, murder and rape have increased in the past few years and can happen anywhere.
[December 2009 last update]
Land Casinos Directory (Main Index)
---
Great gambling information site
Use the "Main Menu" on the top right margin to explore this site. This is a comprehensive gambling information site with advice on winning, how to gamble, Betting systems, gambling articles, world land-based casinos directory, casino reviews (reviewed and rated), the best Online casinos, free online games, and lots of gamblers information and resources.
Topics covered include game rules, how to play, how to win, betting strategies, gambling tips, glossary, on: Blackjack, Roulette (showing Table layouts of American, European and French roulettes and also the fast-play Roulite version), Poker classic and variants including Texas hold'em and Let-it-ride, Craps (dice game), Jackpot slots, Videopoker, Video games, Baccarat, Keno, Lotto/Lottery, Powerball, Bingo, Sports betting, Horse and Greyhound racing (including racetracks, race programs and results), and new gambling games.
This is the gambling website with lots of information and resources as well as helpful advice and frequent updates thanks to your helpful feedback.

Advice
Resources
Facilities
Home ¬ Start here!
All about...
---