Honduran land-based gambling casinos listing: Listed by City/Province

Honduras, Central America land casinos listed by area: (In the Honduran casino listings, gaming times, type of games, minimum bets, promotions, services, facilities etc., if shown, are indicative and may change.)
See useful information on Honduras

below on this page, at the end of the land casinos listing.
San Pedro Sula - There are 2 listed land-based gambling casinos in San Pedro Sula.
Casino Colonial,
Crowne Plaza, 2do. Nivel Comercial, San Pedro Sula, Honduras. Tel: (504) 5509497, Fax: (504) 550-9498, Website: www.casinoscolonial.com, www.ichotelsgroup.com (hotel group)
Nearest Airport: San Pedro Sula, La Mesa International Airport (SAP)
Minimum Gaming Age: 21
Entrance Fee: Free
ID/Passport: Required
Dress Code: Smart/Casual
Opening Times: 24 hours
Gaming Currency: HNL (Honduran lempira)
Games to play: Jackpot Slots/Video Machines with progressive games, Pai Gow Bingo Electronico; Live table games: Roulette (Ruleta), Blackjack, Caribbean Stud Poker; Cardroom: Texas Holde'm Poker
Facilities: Restaurant, Bar, Promotions, Hotel facilities
Remarks: Casino Colonial is within the Crowne Plaza Hotel, San Pedro Sula.
[January 2010 last update]
Hotel Copantl Sula & Casino Copantl, Residencial Los Arcos, Boulevard del Sur, San Pedro Sula, Honduras. Phone: +504 556 7108, Fax: +504 556 9461, Website: www.copantl.com (Grupo Copantl)
Awaiting update information
Tegucigalpa - There is 1 listed land-based gambling casino in Tegucigalpa.
Honduras Maya Hotel & Casino Real,
Avenido Republic de Chili, Colonia Palmira, Tegucigalpa, Honduras. Phone: +504 232 2217, Hotel telephone: (504) 2205000
Awaiting update information

Useful Information on Honduras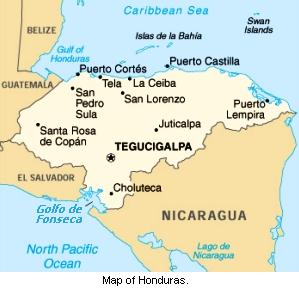 Capital city: Tegucigalpa
Official language: Spanish
Currency: The official currency of Honduras is the Honduran lempira (HNL) which is subdivided into centavos. 100 centavos equal 1 lempira. The major currency exchange rates (on January 16, 2010) are: 1 USD = 18.92 HNL, 1 EUR = 27.20 HNL, 1 GBP = 30.82 HNL
General: Honduras is a republic in Central America. It was formerly known as Spanish Honduras to differentiate it from British Honduras (now Belize). Once part of Spain's empire, Honduras became an independent nation in 1821. Honduras borders the Caribbean Sea on the north coast and the Pacific Ocean on the south through the Gulf of Fonseca. Telephone country code: 86, Cellular (mobile): 78, Internet: .hn
Major cities: The capital Tegucigalpa, La Ceiba, San Pedro Sula, El Progreso, Choluteca, Comayagua, Danlí
Major international airports:
Tegucigalpa, Toncontín International Airport (TGU)
Roatán, Juan Manuel Gálvez International Airport (RTB)
La Ceiba, Golosón International Airport (LCE)
San Pedro Sula, La Mesa International Airport (SAP)
Taxis: Taxis operate in all the main Honduras towns. Meters are non-existent and taxi prices can vary widely so it's best to know your fare before getting into the cab. Fares are negotiable and bargaining hard can get you a reasonable deal. For safety reasons, it makes sense to use taxis to get around in the big cities at night. For trips further afield it can be worth hiring a taxi for a few hours, or even for the whole day. There are also water taxis, which the only means of transportation between Roatan and the other Bay Islands.
Money: Credit cards are widely accepted. ATMs are available in the major towns but often do not accept UK credit cards. Sterling cannot be changed in Honduras. Travellers' cheques in US Dollars (such as American Express) are accepted in Roatan.
[January 2010 last update]
Land Casinos Directory (Main Index)
---
Great gambling information site
Use the "Main Menu" on the top right margin to explore this site. This is a comprehensive gambling information site with advice on winning, how to gamble, Betting systems, gambling articles, world land-based casinos directory, casino reviews (reviewed and rated), the best Online casinos, free online games, and lots of gamblers information and resources.
Topics covered include game rules, how to play, how to win, betting strategies, gambling tips, glossary, on: Blackjack, Roulette (showing Table layouts of American, European and French roulettes and also the fast-play Roulite version), Poker classic and variants including Texas hold'em and Let-it-ride, Craps (dice game), Jackpot slots, Videopoker, Video games, Baccarat, Keno, Lotto/Lottery, Powerball, Bingo, Sports betting, Horse and Greyhound racing (including racetracks, race programs and results), and new gambling games.
This is the gambling website with lots of information and resources as well as helpful advice and frequent updates thanks to your helpful feedback.

Advice
Resources
Facilities
Home ¬ Start here!
All about...
---