Moldovan (Moldovian, Moldavian) land-based gambling casinos: Listed by City/Province

Republic of Moldova, Eastern Europe land casinos listed by area: (In the Moldova casino listings, gaming times, type of games, minimum bets, promotions, services, facilities etc., if shown, are indicative and may change.)
See useful information on Moldova

below on this page, at the end of the land casinos listing.
Reviewed casinos in Moldova: 7 reviews. Star ratings *** Good, **** Very Good, ***** Best; Automats casinos (A) * Good, ** Very Good.
In Chisinau: Broadway Casino*** . Casino Europa**** . Casino Fortus*** . Casino Imperial*** . Game World**A . Napoleon Palace***** . XO Casino Club***
Chisinau (Kishinev) - There are 7 listed land-based gambling casinos in Chisinau.

Useful information on Moldova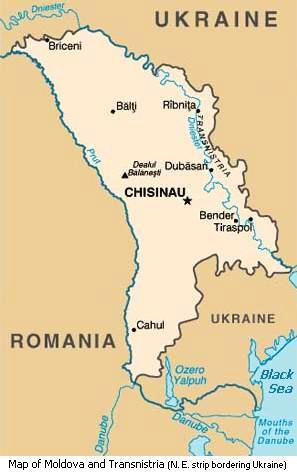 General: Moldova, officially the Republic of Moldova, is a landlocked country in Eastern Europe, located between Romania to the west and Ukraine to the north, east and south. Moldova is a republic with a freely elected government. It has been an independent nation since 1991. Its capital, Chisinau also known as Kishinev, offers adequate hotels and restaurants, but tourist facilities in other parts of the country are not highly developed. Balti, also known as Beltsy, is the second largest city in terms of area and economic importance, after Chisinau. Moldova was admitted to the UN in March 1992. In September 1990, a breakaway government was formed in Transnistria, a self-declared, factually independent Republic between Moldova and Ukraine (a strip northeast of Moldova on the left bank of the river Dniester) with its regional capital Tiraspol, although no UN member has recognized its independence. If you are thinking of going to Transnistria, you should consult your Embassy in Chisinau for the latest information. The official language of Moldova is Moldovan (virtually the same as the Romanian language), the time zone is GMT +02.00, Internet country code: .md
Visa: Visa is necessary for all the foreign visitors except the citizens of CIS (but Turkmenia), Cuba, Northern Korea, Mongolia, Romania and Vietnam, and since January 1, 2007, also citizens of the United States, EU member states, Canada, Switzerland, and Japan do not require visas to enter Moldova if your stay is under 90 days. There are no 'immigration controls' in place on the internal boundary between Transnistria and Moldova proper and entry stamps will not be placed into passports at this juncture. Visitors who enter Moldova via Transnistria are likely to encounter problems when leaving Moldova as their passport will not show a valid entry stamp into Moldova. Visitors entering Moldova overland from Ukraine should do so at one of the internationally recognised border crossing points between Moldova and Ukraine in the north and south of the country, excluding the Transnistria segment.
Major airports: Chisinau (Kishinev) International Airport (KIV) is the sole international gateway of Moldova with occasional flights in Balti (Beltsy) International Airport (BZY)
Local travel: Visitors can be subject to frequent document inspections requiring presentation of passport and visa. Roads are poorly maintained mostly without street. Within Chisinau, transportation is performed by urban public transport: buses, trolley buses, jitneys or taxis.
Taxis: Chishinau International Airport is about 12 km from the city centre. Transfers can be made by mini-buses or by taxi. If using a taxi, agree the price with the driver before getting into the cab. The driver will quote you a price in US dollars and Euros as well. When in town, use official yellow taxis or radiocars, or order one via the hotel or restaurant. Official taxis have a fixed TAXI sign on the roof of the cab and radiocars also have a large-size company number painted on the body of the cab. The ones waiting outside shopping centres and hotels with a temporary TAXI sign on the roof, are not official taxis and are usually overpriced. Most taxi drivers do not speak or understand the English language, so have your destination written in detail on a paper, preferably with the phone number of the place of your destination.
Currency: Monetary unit of Moldova is Moldovan leu (plural - lei), ISO code: MDL. 1 leu equals to 100 bans. There are banknotes of 1000, 500, 200, 100, 50, 20, 10, 5 and 1 leu. Coins in circulation are 50, 25, 10, 5 and 1 ban. Exchange values at 17 May, 2011 are: 1 US dollar (USD) = 11.66, 1 GB pound (GBP) = 18.90, 1 Euro (EUR) = 16.53. The Transnisrian Republic has its own currency: Transnistrian ruble, equal to 100 kopecks. This currency is not convertible, and it doesn't circulate outside Transnistria.
Money: The most widely accepted foreign currencies are the US Dollar and the Euro. It is advisable that you carry some Euro cash. The Euro notes should be in perfect condition or they may not be accepted. Currency restrictions: There are no restrictions on importing local or foreign currency, but the export of foreign currency is restricted if over €10,000 or the equivalent in local currency. Amounts above this sum must be declared.
Casinos: There are many casinos in Chisinau but only six have live table games. The rest are 'slots halls' with automatic machines only. These include video games machines and touchbet roulette terminals connected to an automatic mechanical roulette wheel, also known as Alfastreet Roulette. Unlike the casinos with live table games, slots hall casinos do not require photo ID or passport to enter, unless you look younger than 18 years of age. However, all the casinos will make a security check as you enter using a hand-held body scanner. In the live table games casinos, the gaming currency for the table games in US Dollars, everywhere, but they will accept Euros and Lei (their local currency) at the table and will convert them into dollars on the spot, and will give you chips accordingly.
[May 2011 last update]
Land Casinos Directory (Main Index)
---
Great gambling information site
Use the "Main Menu" on the top right margin to explore this site. This is a comprehensive gambling information site with advice on winning, how to gamble, Betting systems, gambling articles, world land-based casinos directory, casino reviews (reviewed and rated), the best Online casinos, free online games, and lots of gamblers information and resources.
Topics covered include game rules, how to play, how to win, betting strategies, gambling tips, glossary, on: Blackjack, Roulette (showing Table layouts of American, European and French roulettes and also the fast-play Roulite version), Poker classic and variants including Texas hold'em and Let-it-ride, Craps (dice game), Jackpot slots, Videopoker, Video games, Baccarat, Keno, Lotto/Lottery, Powerball, Bingo, Sports betting, Horse and Greyhound racing (including racetracks, race programs and results), and new gambling games.
This is the gambling website with lots of information and resources as well as helpful advice and frequent updates thanks to your helpful feedback.

Advice
Resources
Facilities
Home ¬ Start here!
All about...
---