Northern Mariana Islands land-based gambling casinos listing: Listed by City/Province

Northern Mariana Islands (also called Northern Marianas), North Pacific land casinos listed by area: (In the Northern Mariana Islands casino listings, gaming times, type of games, minimum bets, promotions, services, facilities etc., if shown, are indicative and may change.)
See useful information on Northern Mariana Islands

below on this page, at the end of the land casinos listing.
Tinian - There is 1 listed land-based gambling casino in Tinian.
Tinian Dynasty Hotel & Casino,
1 Broadway, P. O. Box 468, Tinian, MP, 96952, Northern Mariana Islands. Phone: (670) 328-2233, Fax: (670) 328-1133, Website: www.tinian-dynasty.com
Location: Tinian, one of the three major islands of the Commonwealth of Northern Mariana Islands, is located within 3 to 5 hours flying time from Korea, Japan, China, Hongkong and the Philippines. By air, it is only 35 minutes away from Guam. Upon arriving in Saipan (the main Northern Mariana island) it is a 10-minute flight to Tinian.
Nearest Airport: Tinian International Airport (TIQ), 5 miles
Minimum Gaming Age: 21
Entrance Fee: Free
ID/Passport: Required
Dress Code: Smart/Casual
Opening Times: 24 hours
Gaming Currency: US Dollar
Games to play: 95 Jackpot Slots/Video Machines (bets from $0.01 to $1.00), Sega Royal Ascot electric horse racing; Live table games (30): Roulette, Blackjack, Baccarat, Pacific Poker (5-card Stud Poker with progressive jackpot), Sic Bo, Craps; Cardroom: Texas Hold'em Poker, Tournaments
Facilities: Restaurants, Bars, Currency exchange, Major credit cards accepted (Visa, MasterCard, JCB), ATM machine, Car rental, Wheelchairs, Safe deposit boxes, Valet parking, Hotel shuttle bus or car to and from Tinian airport, Interpreter service (Korean, Japanese and Chinese), Shopping arcade, Hotel facilities
Remarks: The casino is within the Tinian Dynasty Hotel. Tinian Airport is approximately 5 miles and 10 minutes away from Tinian Dynasty Hotel & Casino. All flights to Tinian come direct from Saipan. The hotel provides complimentary transfer to and from the airport. Rental cars can be arranged at the airport or at the hotel. Scooter or moped rental (50cc) is also available and can be arranged at the rental outlets located on the beach opposite the hotel.
[June 2005 last update]

Useful information on Northern Mariana Islands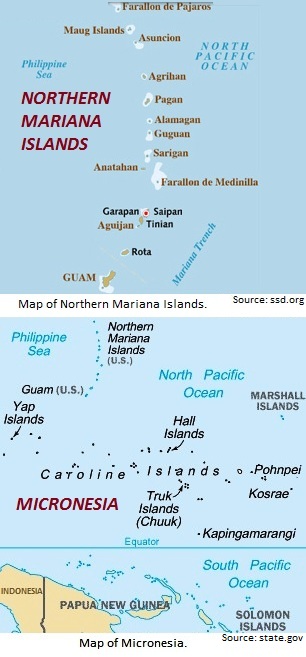 General: The Marianas islands are the northern part of the Micronesia island group. Today, the Marianas Islands are composed of two U.S. jurisdictions: the territory of Guam and the Commonwealth of the Northern Mariana Islands. The Commonwealth of the Northern Mariana Islands (CNMI), is in the Pacific Ocean occupying a strategic region of the western Pacific Ocean. The islands (also called Northern Marianas) were captured by United States forces in 1944, and after World War II they became part of the Trust Territory of the Pacific Islands. In 1977, the Northern Marianas voted to become a United States commonwealth; the change took place in 1986. The Northern Marianas are self-governing, under the sovereignty of the United States. They have an elected governor and two-house legislature. Residents are United States citizens. The commonwealth consists of 16 volcanic islands about three-quarters of the way from Hawaii to the Philippines, forming part of Micronesia, and it includes all of the Mariana Islands except Guam. Southwest of the islands, in the Mariana Trench, is the greatest known oceanic depth - 10,915 metres. The Northern Marians has a population of 80,362 (2005 estimate). Most of the people are Micronesians. Tourism is the leading source of income. More than 90% of the population lives on the island of Saipan. Of the fifteen other islands, only two, Tinian and Rota, have a significant population. Saipan, Tinian, and Rota are the largest islands. The islands of Agrihan and Alamagan have fewer than ten residents each, and the remaining islands are unpopulated. The Commonwealth's centre of government is in the village of Capital Hill on Saipan. As the island is governed as a single municipality, most publications name Saipan as the Commonwealth's capital. International telephone country code: +670, Internet country code: .mp, Electricity voltage: 120V frequency 60 Hz, Electrical outlet: type A North American/Japanese 2-blade, Time zones: GMT +11, No daylight saving time in 2011
Language: English is the official language but many people speak Malayo-Polynesian languages.
Climate: The islands have a tropical marine climate moderated by seasonal northeast trade winds. There is little seasonal temperature variation. The dry season runs from December to June, and the rainy season from July to November and can include typhoons. The Guinness Book of World Records has cited Saipan as having the most equable temperature in the world.
Major islands: Saipan, Titian and Rota.
Tinian historic site: One of the most significant historical events of the 20th Century was initiated from the Island of Tinian at North Field in the Atomic Bomb Pit. It is the site where the atomic bomb underwent final assembly and were then loaded onto the B-29 bombers that carried them to Hiroshima and Nagasaki.
Major airports:
- Obyan, Saipan Island, Saipan International Airport (SPN)
- Rota Island, Rota International Airport (ROP)
- Tinian Island, Tinian International Airport (TIQ)
Travellers from Asia have the best air access to the Northern Marianas. There are direct flights between Saipan and Tokyo, Osaka, Korea and the Philippines. Travellers from North America will have to connect in Guam. Travellers from Europe will connect at one of the Asian gateways.
Ports and harbours:
- Port of Saipan
- Port of Tinian
- Rota West Harbour
Local transport: A car is the best way to get around Saipan, which has a good road system and light traffic. A car is also the best way to get around Tinian or Rota, though roads are far less extensive than on Saipan. There are rental agencies at the airport and in a few of the larger hotels. Shuttle buses travel between major towns and hotels, but there are no scheduled passenger services. Travelling between islands means flying, and Saipan is the hub. There are several daily flights between Saipan and Tinian and between Rota and Saipan or Guam. A ferry sails from Saipan's Charlie Dock to Tinian, and back.
Taxis: Taxis are metered and privately owned, but very expensive. They are clearly marked and easy to find at the airport and at the larger hotels.
Currency: The official currency is the US Dollar (USD). The approximate exchange rate on 12th June 2011 was: 1 Euro = US$ 1.435, 1 GB£ = US$ 1.623
Currency restrictions: There are no restrictions on the import and export of local and foreign currency. Amounts exceeding US$10,000, however, must be declared.
Money: The US dollar is the official currency in the Northern Marianas (as it is throughout Micronesia) and is the only practical currency to carry. Except in the most remote islands, US dollar traveller's cheques are accepted everywhere. There are commercial banks on Saipan, Rota and Tinian. Major credit cards (especially MasterCard and Visa) are accepted at most hotels, large restaurants, car rental agencies and dive shops on Saipan, and at car rental agencies on Rota.
Casinos: Northern Marianas casino gambling activity is a small but growing sector of the economy that is mainly reliant on tourism. Currently there is only one casino located on the island of Tinian, in the Tinian Dynasty hotel and casino complex. The Tinian Dynasty Hotel and Casino offers 4 restaurants, 3 bars and a nightclub. The visitors are mostly from Japan and from the USA and China. There are plans for more casinos on Tinian, Saipan and Rota.
[June 2011 last update]
Land Casinos Directory (Main Index)
---
Great gambling information site
Use the "Main Menu" on the top right margin to explore this site. This is a comprehensive gambling information site with advice on winning, how to gamble, Betting systems, gambling articles, world land-based casinos directory, casino reviews (reviewed and rated), the best Online casinos, free online games, and lots of gamblers information and resources.
Topics covered include game rules, how to play, how to win, betting strategies, gambling tips, glossary, on: Blackjack, Roulette (showing Table layouts of American, European and French roulettes and also the fast-play Roulite version), Poker classic and variants including Texas hold'em and Let-it-ride, Craps (dice game), Jackpot slots, Videopoker, Video games, Baccarat, Keno, Lotto/Lottery, Powerball, Bingo, Sports betting, Horse and Greyhound racing (including racetracks, race programs and results), and new gambling games.
This is the gambling website with lots of information and resources as well as helpful advice and frequent updates thanks to your helpful feedback.

Advice
Resources
Facilities
Home ¬ Start here!
All about...
---