Solomon Islands land-based gambling casinos listing: Listed by City/Province

Solomon Islands, South Pacific land casinos listed by area: (In the Solomon Islands casino listings, gaming times, type of games, minimum bets, promotions, services, facilities etc., if shown, are indicative and may change.)
See useful information on Solomon Islands

below on this page, at the end of the land casinos listing.
Honiara - There is 1 listed land-based gambling casino in Honiara
Club Supreme Casino,
The Pacific Casino Hotel, Kukum Highway, PO Box 1298, Honiara, Guadalcanal, Solomon Islands. Casino Phone: (677) 22168, Hotel: (677) 25009, Fax: (677) 22880, Email: pacificcasinohotel@solomon-hotel.com, Website: www.solomon-hotel.com
Location: The Pacific Casino Hotel is on the island of Guadalcanal. It is approximately 4 kilometres to the centre of Honiara town, the capital city of Solomon Islands. Club Supreme Casino is located opposite the Fortune restaurant.
Nearest Airport: Henderson International Airport (HIR), 5km
Minimum Gaming Age: 21
Registration: Required
Membership: Required
Entrance Fee: Free
ID/Passport: Required
Dress Code: Smart/Casual
Opening Times: Daily 7pm to 3am, Saturday to 7am
Gaming Currency: The Solomon Islands Dollar (SBD)
Games to play: Jackpot Slots/Video Machines; Live table games: Roulette, Blackjack, Baccarat, Poker
Facilities: 2 Restaurants, Bar, Shop, Car rental, Night club, Karaoke, Snooker & Pool, Hotel facilities
Remarks: Pacific Casino Hotel is situated on the seafront, just beside the most famous casino in Solomon Islands, Club Supreme Casino. It is surrounded by vegetation and overlooks the blue ocean of the Iron Bottom Sound, so named after the naval battles of WW2.
[January 2011 last update]

Useful information on Solomon Islands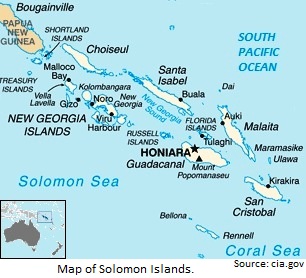 General: Solomon Islands is a sovereign state in Oceania, east of Papua New Guinea, consisting of nearly one thousand islands, and a population of about 572,000 (July 2011 estimate). The capital, Honiara, is located on the island of Guadalcanal. The nation of the Solomon Islands is a member of the Commonwealth of Nations. The United Kingdom established a protectorate over the Solomon Islands in the 1890s. Some of the most bitter fighting of World War II occurred on this archipelago. Self-government was achieved in 1976 and independence in 1978. The Solomon Islands is a constitutional monarchy with the Queen of the Solomon Islands, at present Elizabeth II, as the head of state. International telephone country code: +677, Internet country code: .sb, Electricity voltage: 120V frequency 60 Hz, Electrical outlet: type A North American/Japanese 2-blade, Time zones: GMT +11, No daylight saving time in 2011
Language: Melanesian pidgin (in much of the country is lingua franca), English (official but spoken by only 1%-2% of the population), 120 indigenous languages.
Climate: Semi-tropical, mainly hot and humid, with little annual variation in temperature. The wet season (November to April) can bring severe tropical storms. The good season is April to November, but the best time is July to September. Temperature is not a factor as it stays between 23 and 31 Celsius throughout the year.
Major islands and cities: The Solomon Islands six main islands are Choiseul, Guadalcanal, Malaita, New Georgia, San Cristobal and Santa Isabel. Honiara is the capital city located on the island of Guadalcanal, with a population of about 72,000 (2009 estimate).
Major airports: Honiara International Airport (HIR) is the only international airport in the Solomon Islands and is located on Guadalcanal Island, 8 kilometres from the capital Honiara. Domestic scheduled and charter services are run by Solomon Airlines from Henderson Field to most main islands and towns in the Solomons.
Ports and harbours: Aola Bay, Honiara, Lofung, Noro, Viru Harbor, Yandina
Local transport: Large and small ships provide the best means of travelling between islands. Outboard-powered dinghies are the most common means of transport in the Solomons. The MV Pelican Express offers an excellent "passenger boat" service between Honiara, Western Province and Malaita. In Western Province Go West Tours offers a regular shuttle between Munda and Gizo. Public minibuses are only found in Honiara.
Taxis: Taxis are available in Auki and Honiara. It is advisable to agree the fare before you get into the cab.
Currency: The Solomon Islands Dollar (SBD) is the currency in the Solomon Islands. The symbol for SBD can be written SI$. The Solomon Islands Dollar is divided into 100 cents. The approximate exchange rate on 4th July 2011 was: 1 US$ = 7.25 SBD, 1 Euro = 10.53 SBD, 1 GB£ = 11.68 SBD
Currency restrictions: For non-residents, no restrictions on importing money, provided they are declared on arrival. For export, local currency up to SBD 250.00 and foreign currencies up to the amounts imported and declared.
Money: The main tourist-oriented businesses accept credit cards, but elsewhere it is strictly cash. Money can be changed at banks, bureaux de change, some hotels, and larger shops and restaurants. There are only two ATMs in the country: at Honiara's ANZ and Westpac bank branches. ANZ and Westpac banks give cash advances on credit cards; NBSI (the National Bank of the Solomon Islands) does not. NBSI, Westpac and ANZ will change money in most major currencies. NBSI has a network of branches and agencies around the country.
[July 2011 last update]
Land Casinos Directory (Main Index)
---
Great gambling information site
Use the "Main Menu" on the top right margin to explore this site. This is a comprehensive gambling information site with advice on winning, how to gamble, Betting systems, gambling articles, world land-based casinos directory, casino reviews (reviewed and rated), the best Online casinos, free online games, and lots of gamblers information and resources.
Topics covered include game rules, how to play, how to win, betting strategies, gambling tips, glossary, on: Blackjack, Roulette (showing Table layouts of American, European and French roulettes and also the fast-play Roulite version), Poker classic and variants including Texas hold'em and Let-it-ride, Craps (dice game), Jackpot slots, Videopoker, Video games, Baccarat, Keno, Lotto/Lottery, Powerball, Bingo, Sports betting, Horse and Greyhound racing (including racetracks, race programs and results), and new gambling games.
This is the gambling website with lots of information and resources as well as helpful advice and frequent updates thanks to your helpful feedback.

Advice
Resources
Facilities
Home ¬ Start here!
All about...
---