Swaziland land-based gambling Casinos: Listed by City/Province

Swaziland, Africa land casinos listed by area: (In the Swaziland casino listings, gaming times, type of games, minimum bets, promotions, services, facilities etc., if shown, are indicative and may change.)
See useful information on Swaziland

below on this page, at the end of the land casinos listing.
Mbabane-Manzini - There is 1 listed land-based gambling casino in Mbabane-Manzini.
The Royal Swazi Spa Valley Casino & Resort,
Main Road, Mbabane-Manzini, Swaziland. Postal Address: Private Bag Ezulwini, Swaziland H106. Phone: +268 416 5000, Fax: +268 416 1859, Email: swazisun@sunint.co.za, Website: www.suninternational.com
Nearest Airport: Matasapa Airport (35km)
Minimum Gaming Age: 21
Opening Times: Slots Sun-Thu 09:00 to close, Fri and Sat open 24 hours; Tables Daily Mon-Fri 19:00 to close, Sat 16:00 to close, Sun 13:00 to close; Bingo Mon and Thu at 21:00, Sun at 17:30
Gaming Currency: Emalangeni & South African Rand
Games to play: Jackpot Slots/Video Machines with progressive games; Live table games: Roulette, Blackjack, Punto Banco, Bingo
Facilities: 2 Restaurants, 2 Bars.
Remarks: The Royal Swazi Spa is a 5-Star resort situated in the Heaven valley in Swaziland, with an on-site casino. Local attractions include a variety of history and culture trails, wildlife trails, and activities such as white water rafting, horse riding, mountain biking, and paragliding. The Royal Swazi Spa Valley Casino is part of Sun International Casinos.
[July 2008 last update]
Piggs Peak - There is 1 listed land-based gambling casino in Piggs Peak.
The Orion Piggs Peak Hotel and Casino,
King Maswati II Highway, PO Box 390, Piggs Peak, Swaziland. Casino Phone: +268 437 1689, Hotel: +268 437 1104, Website: www.piggspeak.co.sz/Casino-Hotel
Nearest Airport: Matsapa Airport (100km)
Minimum Gaming Age: 21
Dress Code: Casual
Opening Times: 9:00am - 4:00pm
Gaming Currency: Emalangeni & South African Rand
Games to play: 80 Jackpot Slots/Video Machines with progressive games; Live table games (8): Roulette, Blackjack, Poker
Facilities: 2 Restaurants (Egumeni and Forest), Bar, Private gaming area
Remarks: Part of Orion, the Piggs Peak Hotel and Casino is situated in a secluded pine forest, around 4.5 hours from Johannesburg. Nearby attractions include the Phophonyane Waterfall, Maguga Dam and the 2nd largest single rock face in the world, the Sebebe rock.
[July 2008 last update]

Useful Information on Swaziland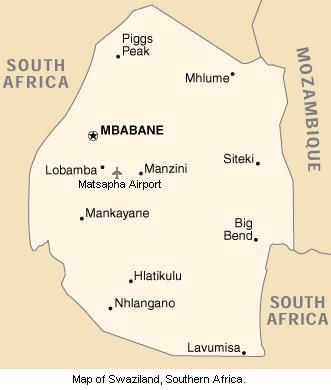 Capital city: Mbabane, Royal and legislative capital: Lobamba
Official language: SiSwati (also known as Swati, Swazi or Seswati) along with English. The official government business is conducted in English. SiSwati is also one of the official languages of South Africa.
Currency: Swazi Lilangeni (SZL also L), plural Emalangeni. One Lilangeni is equal to 100 cents. The exchange rates (on May 24, 2010) for three major currencies are: 1 USD = 7.66 SZL, 1 EUR = 9.57 SZL, 1 GBP = 10.99 SZL
General: The Kingdom of Swaziland, sometimes called Ngwane, is a landlocked country in Southern Africa, surrounded by South Africa to the north, south and west, and borders to the east by Mozambique. Swaziland is a small country, no more than 200 km north to south and 130 km east to west. Swaziland gained independence in 1968 and is a member of the Southern African Development Community, the African Union, and the Commonwealth of Nations. The head of state is the king. Telephone country code: +268, Cell phone mobile network: GSM 900, Internet: .sz, Electricity: 230V at 50Hz (the plug type used is a 15-amp round, three-pin plug as used in South Africa), Time zone: GMT +2.
Provinces: Swaziland is divided into four districts: Hhohho, Lubombo, Manzini and Shiselweni.
Major cities: Manzini, Mbabane (capital), Big Bend, Malkerns, Mhlume, Hluti, Siteki, Piggs Peak, Lobamba, Kwaluseni
Major international airports:
- Matsapha (Manzini) International Airport (MTS) is located 5 kilometres (3 miles) west of Manzini. Taxi service to the city centre is available on all arrivals (journey time about 15 minutes). Matshapa is currently Swaziland's only international airport. Visitors should bear in mind that they cannot change money at the airport. SA Airlink runs daily flights between Manzini and Johannesburg.
- The new Sikhuphe International Airport is due to open in May, 2010. The airport is located 40 minutes by road from the commercial centre of Manzini. It will replace Matsapha Airport, which serves largely as a charter airport for small regional carriers such as SA Airlink.
Visa: Most travellers visiting Swaziland enter through South Africa. Travellers traveling to South Africa should have several unstamped visa pages left in their passports. South Africa requires two unstamped visa pages, excluding amendment pages, to enter the country. Visitors who do not have enough free visa pages in their passport risk being denied entry and sent back at their own expense.
Taxis: Exercise caution with using local taxis. Ensure the taxi you use is from a reputable company. Never enter a taxi that is occupied by anyone else besides the driver. It is good practice to call a friend to let them know the plate number of the taxi you are using. Extreme caution is recommended when using mini-bus taxis, which follow fixed routes and are flagged down by passengers almost everywhere on the streets and roads of Swaziland. Many of these vehicles fail to meet minimal safety standards. Drivers frequently overload the vehicles and travel at excessive speeds. Fatal accidents involving this form of transport are very common.
Money: The local currency (Lilangeni, plural Emalangeni) is not convertible. South African notes (but not coins) are legal tender and The South African Rand is pegged to the Lilangeni (L1=R1). Most major credit cards are accepted. ATM machines are readily available in the main towns. Travellers cheques are widely accepted and are best taken in US Dollars, Euros or Pounds Sterling.
[May 2010 last update]
Land Casinos Directory (Main Index)
---
Great gambling information site
Use the "Main Menu" on the top right margin to explore this site. This is a comprehensive gambling information site with advice on winning, how to gamble, Betting systems, gambling articles, world land-based casinos directory, casino reviews (reviewed and rated), the best Online casinos, free online games, and lots of gamblers information and resources.
Topics covered include game rules, how to play, how to win, betting strategies, gambling tips, glossary, on: Blackjack, Roulette (showing Table layouts of American, European and French roulettes and also the fast-play Roulite version), Poker classic and variants including Texas hold'em and Let-it-ride, Craps (dice game), Jackpot slots, Videopoker, Video games, Baccarat, Keno, Lotto/Lottery, Powerball, Bingo, Sports betting, Horse and Greyhound racing (including racetracks, race programs and results), and new gambling games.
This is the gambling website with lots of information and resources as well as helpful advice and frequent updates thanks to your helpful feedback.

Advice
Resources
Facilities
Home ¬ Start here!
All about...
---