The Parlay system: (Money management betting systems, gambling systems.)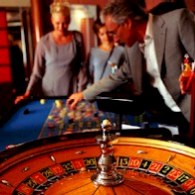 Positive progression system, similar to the Paroli System.
This system is similar to the Paroli system and has the effect of 'pyramiding' your profit. Pyramiding is a parlay wager whereby the original wager plus its winnings are played on successive wagers.
It is commonly used in horse racing betting. Basically you make a bet and if you win you re-invest the winnings on the next bet. You 'let it ride'.
This method of play is by no means risk free, but it offers the least amount of risk of all wagers since the player is only concerned with either a win, place or show selection or a combination of the three.
It is one of the oldest methods of wagering and was originally derived from the same premise that banking systems use to compound interest.
* Positive progression betting systems: You increase the bet when you win. Kind of 'let-it-ride'. Require less capital and usually employed to take advantage of winning streaks. (No sweat, easy ride. My favorite.)
---
Great gambling information site
Use the "Main Menu" on the right margin to explore this site. This is a comprehensive gambling information site with advice on winning, how to gamble, betting strategies, the best online casinos, lots of gamblers resources including a global land-based casinos directory.
Topics covered include game rules, how to play, how to win, winning strategy, betting systems, gambling tips, on: Blackjack, Roulette, Poker classic and variants including Texas Hold'em and Omaha, Craps, Slots and Videopoker, Baccarat, Keno, Lotto/Lottery, Powerball, Bingo, Sports betting, Horse racing and Greyhound dog racing.
This is the gambling site with lots of resources as well as helpful advice and frequent updates thanks to your helpful feedback.