Red dog:
Other Games (Main Index)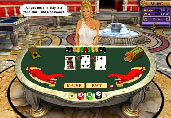 Game summary
This is a game of chance more than skill. It is a variation of the in-between game. All cards are ranked as in poker.
To start, the player places an initial wager on the table and then the dealer draws two cards face up. If the two dealt cards are consecutive then the hand is a push. If the two cards are equal a third card is dealt. A matching third card pays 11:1, otherwise the hand is a push.
If the two cards are neither consecutive nor equal the dealer announces the spread, that is, the number of card values in between the dealt cards. For example a 4 and 10 would have a spread of 5.
The player then must decide whether or not the third card dealt by the dealer will fall in-between the values of the first two cards and is given a chance to increase the wager up to the amount of the initial wager.
Then a third card is dealt. If it matches or is outside the first two cards the player loses. If it is in between the first two cards the player wins as follows:
1 card spread: pays 5:1
2 card spread: pays 4:1
3 card spread: pays 2:1
4 or more card spread: pays 1:1
Based on statistical probability, it is suggested that a player should only raise the bet when the spread between the two initial cards is seven or greater, where the player's edge is 54%. The player's edge rises to 85% when the spread is 11 and lowers to 8% when the spread is only one.
House advantage 2.7%
Other Games (Main Index)
---
Great gambling information site
Use the "Main Menu" on the right margin to explore this site. This is a comprehensive great gambling information site with advice on winning, how to gamble, betting strategy, listing the best online casinos and world land-based casinos directory.
Topics covered include game summary, rules, how to play, how to win, game strategy, betting systems, gambling tips, on: Blackjack, Roulette, Poker classic and variants such as Texas Hold'em poker, Craps/Dice, Slots and Videopoker, Baccarat, Keno, Lottery, Powerball, Bingo, Sports betting, Horse racing and Greyhound racing, and other casino games.
This is the gambling website with lots of information and resources as well as helpful advice and frequent updates thanks to your helpful feedback.