Sic Bo:
Other Games (Main Index)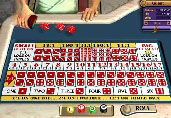 Game summary
Sic Bo is an ancient Chinese gambling game meaning 'Dice Pair'. It is played in Southeast Asia, Korea, Nevada and Australia. It is also popular in the Philippines, where it is called 'Hi-Lo'.
It is played with three dice. The object of the game is to select the individual numbers, or combinations of numbers, that will appear on the dice after the 'throw'.
The possibilities include single dice numbers, two of a kind, three of a kind, or combinations of any two or three of the dice. These are displayed along with payoff odds on the table's layout.
How to play Sic Bo
To start, the players make their selection of a possible outcome and place a bet on a chosen possibility. After the bets are made, the dice tumbler is rotated and then set on the table. All winning possibilities of the three dice appear illuminated on the layout.
Winning payoffs range from 1:1 even money for one-of-a-kind, to 180:1 for a specific trio.
House advantage 2.8% - 47%
Other Games (Main Index)
---
Great gambling information site
Use the "Main Menu" on the right margin to explore this site. This is a comprehensive great gambling information site with advice on winning, how to gamble, betting strategy, listing the best online casinos and world land-based casinos directory.
Topics covered include game summary, rules, how to play, how to win, game strategy, betting systems, gambling tips, on: Blackjack, Roulette, Poker classic and variants such as Texas Hold'em poker, Craps/Dice, Slots and Videopoker, Baccarat, Keno, Lottery, Powerball, Bingo, Sports betting, Horse racing and Greyhound racing, and other casino games.
This is the gambling website with lots of information and resources as well as helpful advice and frequent updates thanks to your helpful feedback.