Global travel tips for the business and general traveller / traveler:
When travelling you will probably find that most countries are generally safe but because of the few ones that may not be so, it is advisable for the traveller to always take precautions. Below are tips that you may find useful to help you travel safely with added security and comfort, and to save you money.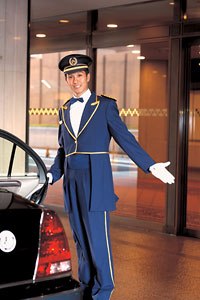 Whenever possible use either the hotel's airport shuttle pick up bus or the hotel's airport limousine service, even if there is a fee to pay. Call the hotel before you travel and let them know of your arrival, as some hotels require that you pre-book the use of their transportation facility.
If you need a taxi and you are at the hotel, ask your hotel receptionist to get you one or ask anyone in the hotel except the doorman. Hotel doormen may have a pre-arranged cut in the cost of the taxi ride and therefore it may cost you more if ordered through the hotel doorman.
The best way to determine the price of a taxi ride is to find out how much the ride will cost before you get in. If your starting point is at the hotel, ask the hotel receptionist how much the ride should cost and then confirm the price with the taxi driver before you get in.
Make sure the taxi driver knows where he is taking you before he starts moving and the best way to do this is to leave the door open while you discuss your destination.
Four and five star category hotels are normally extremely secure, providing you with a safe in the room and at the reception area and have security guards and cameras. However, if the in-room safe is electronic, wipe the touch keys down before operating it with a damp cloth, and then dry it before entering your secret code. Try to do this every time you use the safe. Also, after you have keyed in your code and closed the door firmly locked on the safe, press two or three keys (numbers) that do not make up your code. This is because certain hotels have caught their own hotel staff applying a light oil or powder on the touch keys that shows them when using a certain light what numbers were pressed.
To determine if the mirror in your hotel room is two-way or not, place the tip of your fingernail against the reflective surface of the mirror and if you can see a gap between your fingernail and its reflection, then it is probably a genuine mirror. However, if your fingernail touches its reflection on the mirror (no gap), then it could well be a two-way mirror; they can see you but you can't see them.
When travelling to Europe consider going in the off-season period, which is mainly from October to April. You should be able to save on airfare and find hotels at bargain rates.
Make 2 copies of your passport identification page (the one with your picture and data on it). Leave one copy permanently at home, keep one copy in the hotel and carry the actual passport with you all the time. A copy of your passport can be very useful if your passport is lost or stolen.
Add to your cellphone phonebook, before you travel, the full international phone number of your hotel and that of your embassy in the country you are visiting. Make sure the phone numbers work. These should be your Help and Emergency contacts during your visit.
If you are a frequent business traveller, when adding to your cellphone phonebook contacts for the country you are visiting, enter each contact name starting with the name of the country followed by the actual contact name. This way it will make it easier for you to remember where to look and also all the contacts for each country will show up on your phonebook grouped together and in sequence making it easier to find for use or to delete.
---
Great gambling information site
Use the "Main Menu" on the top right margin to explore this site. This is a comprehensive gambling information site with advice on winning, how to gamble, Betting systems, gambling articles, world land-based casinos directory, casino reviews (reviewed and rated), the best Online casinos, free online games, utilities, and lots of gamblers information and resources.
Topics covered include game rules, how to play, how to win, betting strategies, gambling tips, glossary, on: Blackjack, Roulette (showing Table layouts of American, European and French roulettes and also the fast-play Roulite version), Poker classic and variants including Texas hold'em and Let-it-ride, Craps (dice game), Jackpot slots, Videopoker, Video games, Baccarat, Keno, Lotto/Lottery, Powerball, Bingo, Sports betting, Horse and Greyhound racing (including racetracks, race programs and results), and new gambling games.
This is the gambling website with lots of information and resources as well as helpful advice and frequent updates thanks to your helpful feedback.