Tripoley/Tripoli card game:
Games new additions (Main page)
Other Games (Main Index)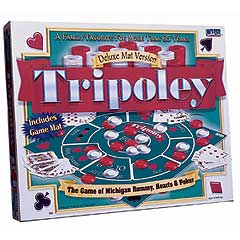 Game summary
Tripoley is a modern version of the ancient European game Poch. In Germany it is still possible to buy a board for the game under this original name Poch. It is also known as Michigan Rummy or Tripoli. In North America equipment for the game is sold under the names TRIPOLEY®, Rummoli and Royal Rummy. In Australia, it is called Calliente or Caliente.
Tripoley is great fun for all ages and skills. It helps to learn strategy, develope thinking, improve memory, and acquire patience. Tripoley combines the challenge, suspense and fun of Hearts, Poker and Michigan Rummy into a thrilling, friendly game of chance.
The game is played in three stages. In the first stage, the holders of particular cards collect the relevant stakes. In the second stage the play is similar to Poker, and in the final stage it is a Stops game similar to Michigan or Boodle.
Up to nine players can play, starting off with a round of hearts, followed by a poker hand, and finally with a game of rummy.
Tripoley/Tripoli related links
Card Games - Rules of Three-in-one card game: Tripoli
The House of Cards - Tripoley products, including Tripoley dice and Tripoley poker keeno.
Other Games (Main Index)
Games new additions (Main page)
---
Great gambling information site
Use the "Main Menu" on the right margin to explore this site. This is a comprehensive great gambling information site with advice on winning, how to gamble, betting strategy, listing the best online casinos and world land-based casinos directory.
Topics covered include game summary, rules, how to play, how to win, game strategy, betting systems, gambling tips, on: Blackjack, Roulette, Poker classic and variants such as Texas Hold'em poker, Craps/Dice, Slots and Videopoker, Baccarat, Keno, Lottery, Powerball, Bingo, Sports betting, Horse racing and Greyhound racing, and other casino games.
This is the gambling website with lots of information and resources as well as helpful advice and frequent updates thanks to your helpful feedback.