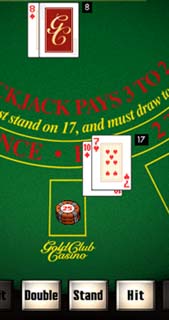 How to win at blackjack: (Strategy, plan, tactics, method, system, technique.)

Unlike most other casino games, blackjack is a game whose outcome is greatly influenced by the player, right from the moment the player cuts the deck of cards. The dealer is practically like a robot. He follows set rules and makes no decisions of his own.

There are three different approaches to the game a player can take using three different strategies:

1. Play blackjack as a game of luck using money management only. Determine when to call a card and when to stand irrespective of what the dealer shows, apply a suitable money management system like the Paroli system and set appropriate profit and loss limits for when to quit.

2. Use basic strategy. Follow the game and take into account the dealers card to determine whether to call a card or stand. Apply a suitable money management system like the D'Alembert system and set appropriate profit and loss limits for when to quit.

3. Card counting. This is not easy to do and some casinos don't like it. If you choose to play blackjack this way, it is best to learn from the experts. There are several books on sale that should teach you how to go about it.

A note on card counting

The principle behind card counting is that a deck of cards rich in tens and Aces is favorable to the player, a deck rich in small cards is favorable to the dealer. A deck rich in tens and Aces, is likely to bust the dealer more often.

To gauge the richness of the deck in high cards or lack of them, the player needs to keep track of the cards that are already played and assign a point value to each card. The calculation is quite complex, but basically the card counter will give a plus point each time the deck of cards becomes more favorable and a minus point each time it becomes less favorable. Basically, the high cards have a -1 point and the low cards a +1 point and the in between 0 point.

The counter then counts by adding and subtracting points according to the cards played and keeps a running total of the count called 'running count'. Then he also needs to divide the running count by the proportion of the size of the deck of cards left to get the 'true count'. Now he knows the relative richness of high cards in the remaining deck.

A positive count is good and a high positive count is best and the card counter will assess his hand, the dealer's up card, weigh up his options and intensify his betting accordingly.

To be a successful card counter you need to have a powerful memory and fast reaction while amassing information as you play. And for what? If everything works out well, you will be looking at a slow and tedious 1% average profit. If you wager large sums of money to make the 1% worthwhile, you are likely to be noticed by the pit boss and prompt frequent shuffling of the cards. Card counting is hard, not liked by the casinos and is not as rewarding as it may seem.

Interesting links

Blackjackinfo.com
Features a customizable basic strategy chart for any set of rules, and a basic strategy trainer game which coaches you as you play.

Blackjack Card Counting Tutor
Java applet that simulates a normal 6 deck blackjack game with 3 hands being played according to basic strategy. It keeps track of the running and true counts, which you can hide or show to see how well you're counting.
---
Great gambling information site
Use the "Main Menu" on the right margin to explore this site. This is a comprehensive great gambling information site with advice on winning, how to gamble, betting strategy, listing the best online casinos and world land-based casinos directory.
Topics covered include game summary, rules, how to play, how to win, game strategy, betting systems, gambling tips, on: Blackjack, Roulette, Poker classic and variants such as Texas Hold'em poker, Craps/Dice, Slots and Videopoker, Baccarat, Keno, Lottery, Powerball, Bingo, Sports betting, Horse racing and Greyhound racing.
This is the gambling website with lots of information and resources as well as helpful advice and frequent updates thanks to your helpful feedback.
Blackjack Rules . Glossary . Tips . * Strategy . Books . Links . Extras