Professional dealing schools, vocational training: Learn how to become a casino dealer/croupier/croupiere


(Directory listing. Use this form to add, to update or to remove a Casino Dealer School listing.)

Photo courtesy Palomar College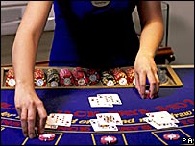 The following is a list of professional dealing schools outside USA and Europe (USA, Europe and UK are listed on separate pages - see links above) to do with the gaming industry and related services. For more information on classes provided and their costs, contact the schools directly.
You may find additional schools have recently opened as well because of the current expansion of the gaming industry. Please use this form to notify us so that we may list the new ones on this page.

Destination maps, directions (Link opens new window)



Aruba - There is 1 listed gaming school for dealers in Aruba.
~ Casino Effective Solutions, Ponton 87K, Oranjestad, Caribbean 00000, Aruba.
Phone: 297-731-7908, Website: www.cesaruba.com
Games taught: Poker, Black Jack, Roulette and Craps
Remarks: Minimum age requirement 18 years old.
Canada - There is 1 listed gaming school for dealers in Canada.
~ Casino Dealer Internship Program, part of International English Community College (IECC), Main Fl 322 Water St., Vancouver B.C. V6B 2Z6, Canada.
Phone: 604-696-9322, Fax: 604-696-9311, E-mail: info@iecc.ca, Website: www.iecc.ca
Games taught: Blackjack, Roulette, Caribbean 5-Card Stud, Mini-Baccarat, 3-Card Poker
Remarks: IECC's Casino Dealer Program is an intensive (plus internship) skill-based program designed to give students the skills and experience required to gain employment in the casino industry. Whether you want to work in a casino in Canada or internationally, travel and work on a cruise ship, or simply want to improve your English while learning about casino games, this program is for you!
India - There are 4 listed gaming schools for dealers in India.
~ Asia Casino school, Development area, Jheevan Theeng marg, Gangtok, Sikkim 737101, India.
Phone: 0091 3592201423, 0091 9933002200, Website: www.asiacasinoschool.com
Games taught: 15 world popular games
Remarks: First casino dealer school in India. Apply now and we guarantee your future casino career.
~ Casino India school, Development area, Jheevan Theeng marg, K.C.Pradhan buildng, Gangtok, Sikkim 737101, India.
Phone: 0091 3592 201423, Website: www.casinoinschool.com
Games taught: Roulette, Blackjack, Baccarat, Texas Hold'm poker, Three card poker, Carribean stud poker, Mini flush and 10 others
Remarks: We give job guaratee.
~ Diptesh gosavi, Hno 566 opp goa shipyard ltd, vaddem, Vasco, Goa, India 403802.
Phone: +919923040526
Games taught: Black jack
~ Youth Force Of Goa, Panaji Goa, Panaji, Goa, 403507, India.
Phone: +91 9764770507
Games taught: All gaming
Remarks: Certification after completion of the course with 100% job assistance.
Peru - There is 1 listed gaming school for dealers in Peru.
~ Darshan Sac - Escuela De Casino, Av La Molina 1144 - 302 La Molina, La Molina - Lima 12, Peru, South America.
Phone: 00 511 4369479 - 2500260
Games taught: Black Jack - 3-Card Poker - Roulette - Craps - Texas Holdem - Let it Ride - Pai Gow - Baccarat - Caribbean Poker Remarks: We have open positions at Cruise Lines in Europe / USA & Asia - As well as openings in Casinos all over South America.
Puerto Rico - There is 1 listed gaming school for dealers in Puerto Rico.
~ Croupier Institute of Puerto Rico, Calle Loiza 2017, San Juan, Puerto Rico, 00911, Puerto Rico.
Phone: Spanish 787-727-6172, 787-309-0790; English 787-727-1201, 787-505-5030(msg); Fax: 787-727-6172
Games taught: Craps, Roulette, Blackjack, Mini-Baccarat, Poker
Remarks: Technical and vocational Institute in Puerto Rico specializing in the preparation of professionally trained dealers. Institute's certification required for Puerto Rico gaming license.
Serbia - There are 2 listed gaming schools for dealers in Serbia.
~ Elite Gaming Academy, Apartado 18, Mojacar Pueblo 04638, Almeria, Spain, Belgrade, Serbia, 11210.
Phone: +38164 623 2535
Games taught: Roulette, Poker, Black Jack, Bacara, Dice
~ Casino Dealer Academy, Radivoja Koraca 4 Beograd, Serbia, 11000.
Phone: +381604333551, Email: info@krupije-obuka.com, Website: www.skola-krupijea.com
Games taught: American Roulette, Black Jack, Caribbean Stud Poker, Three Card Poker and Texas hold 'em Poker.
South Africa - There is 1 listed gaming school for dealers in South Africa.
~ Kent Avenue Training, 38 Melle Street, Braamfontein, Johannesburg, Gauteng, 2001, South Africa.
Phone: 27 82 415 4905, Website: www.kentavenuetraining.co.za
Games taught: American Roulette, Blackjack, Texas Hold'em Poker, Raise 'Em Poker, Baccarat, Punto Banco
Remarks: Casino tables dealer entry level training & job placement. Training courses design & implementation, Casino training manuals design & production.
Related useful link

Casino jobs - Lists sites for casino job seekers and employers in the gaming industry.
---
Great gambling information site
Use the "Main Menu" on the right margin to explore this site. This is a great comprehensive gambling information site with advice on winning, how to gamble, betting strategies, gamblers information and tips, world land-based casinos directory and the primary listing of the best online casinos.
Topics covered include game rules, how to play, how to win, winning strategy, betting systems, gambling tips, glossary (terminology), on: Blackjack, Roulette, Poker classic and variants, Craps, Slots and Videopoker, Baccarat, Keno, Lottery, Powerball, Bingo, Sports betting, Horse racing, Greyhound racing, and other new games.
This is the gambling website with lots of information and resources as well as helpful advice and frequent updates thanks to your helpful feedback.

Advice
Resources
* Extras
Facilities
Home ¬ Start here!
All about...
---