How to win at craps: (Strategy, plan, tactics, method, system, technique.)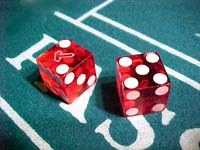 Graphic courtesy Custom Craps
There is very little you can do to influence the outcome at craps. Therefore, rather than try to influence or predict the outcome, a good strategy would be to ride on the outcome and vary the intensity of betting appropriately; more as you win (when the table is 'hot'), less as you lose (when the table is 'cold').
Make a betting selection(s) or establish a pattern of play to your liking and stick to it. Give preference to high-odds bets and don't plan to win every roll of the dice (you can't have both). These combined with a suitable money management system, like the Paroli system, should give you the opportunity to be a winner.
---
Great gambling information site
Use the "Main Menu" on the right margin to explore this site. This is a comprehensive great gambling information site with advice on winning, how to gamble, betting strategy, listing the best online casinos and world land-based casinos directory.
Topics covered include game summary, rules, how to play, how to win, game strategy, betting systems, gambling tips, on: Blackjack, Roulette, Poker classic and variants such as Texas Hold'em poker, Craps/Dice, Slots and Videopoker, Baccarat, Keno, Lottery, Powerball, Bingo, Sports betting, Horse racing and Greyhound racing.
This is the gambling website with lots of information and resources as well as helpful advice and frequent updates thanks to your helpful feedback.
Craps Rules . House edge . Glossary . Tips . * Strategy . Books . Links . Extras