Electronic touch-screen roulette terminals and machines:
Graphic courtesy tcsaces.com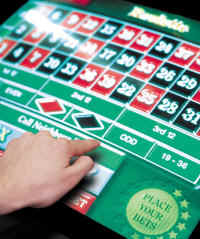 Summary
Touchbet Roulette allows you to play on an individual terminal with your own individual on-screen layout of the table for maximum comfort.
The live play Touchbet configuration utilises touch screen roulette betting terminals, a live game roulette table with croupier and two cameras. One of the cameras is focussed on the table and one on the roulette wheel. These images are projected live on two large screen displays, which can be located anywhere in a casino. Players view these large screen displays whilst wagering on the touch screen roulette terminals, which simulate the betting area of a live game roulette table.
The principles of the game still remain with the Roulette wheel determining the end result. However, instead of stretching over the table to place your bets before the ball drops, all bets can be placed using your own touch screen.
The terminals/machines
There are three distinctive types of Touchbet Roulette terminals or machines:
1. Live dealer spun physical wheel Touchbet Roulette
Casinos can now extend their live game roulette pit by utilising the Touchbet Roulette system (such as the Novo TouchBet Roulette and the Novo Multi-Table Roulette) which allows up to 250 additional players to place wagers on electronic terminals. (See diagram below)
Live Touchbet Roulette is an extension of a live game of casino roulette, enabling the player to play a live table game at his own electronic terminal for added ease and comfort. The terminal replicates the roulette layout and a touch screen allows the player to place his bets, which is as good as placing chips on the actual table. The roulette wheel and table are viewable via large screen displays, allowing players to watch the action as they play live from their own terminals.
Already installed in many British casinos (named Touchbet roulette or Multi roulette), the system is enjoying substantial popularity because it is a live table game and its results are determined by the wheel, not an electronic random number generator.
2. Electronically spun physical wheel Touchbet Roulette
This uses the same system as the live dealer Touchbet Roulette, with the only difference being that an electronic mechanism spins a purpose built physical roulette wheel with a real ball, rather than a dealer. A common set up is the "Carousel Roulette" (called "Carousel" due to its circular setup, similar to the fairground machines).
The Carousel Roulette game is an automated roulette system and relatively fast to play, usually seating eight players around a Roulette Wheel. The spinning of the ball and the wheel is electronically activated. The players bet in the same way as the live Touchbet Roulette; by touching the screen to place their bets.
3. Computer Software spun graphical wheel Touchbet Roulette
These are stand-alone Touchbet Roulette machines with touch-bet features as the above two systems, but everything, including the roulette wheel, is electronic graphics and is operated by computer software.
How to play touchbet roulette
Buy in with £5, £10 or £50 notes by inserting them in the terminal/machine. In casinos, £100 tokens are also accepted and these may be obtained from the cashier. Your credits (chips) are automatically displayed on your screen. When "Place your bets" shows on your screen, simply touch the number (you can place combination bets just like the real roulette table) or any of the outside bets on screen where you want to place you chips - one touch for one chip, two for two chips etc.
The value of chips you have staked is deducted from your credits. To increase the value of each chip, touch 5x or 10x on your screen. For example: if you are betting £1 chips, touch 5x on the screen to increase the value of your chips to £5 each. You will now be placing a £5 bet each time you touch the screen. To return to £1 chips, simply touch 1x on your screen.
All terminals are 'locked out' when 'no more bets' highlights on the screen. You may not then change, add or remove chips for that spin.
As the ball lands, the winning number highlights in blue on your screen and winning bets are paid out.
Winnings are shown in the 'Win box' on your terminal and then added to your credits.
To collect your winnings, press 'Cash' on your terminal and the console will print out a receipt for you to exchange for cash at the 'Cash Desk'.
Roulette Rules . Table layout . Single zero wheel . Double zero wheel . * Electronic roulette . Glossary . Tips . Strategy . Books . Links . Extras
---
Great gambling information site
Use the "Main Menu" on the right margin to explore this site. This is a comprehensive great gambling information site with advice on winning, how to gamble, betting strategy, listing the best online casinos and world land-based casinos directory.
Topics covered include game summary, rules, how to play, how to win, game strategy, betting systems, gambling tips, on: Blackjack, Roulette, Poker classic and variants such as Texas Hold'em poker, Craps/Dice, Slots and Videopoker, Baccarat, Keno, Lottery, Powerball, Bingo, Sports betting, Horse racing and Greyhound racing.
This is the gambling website with lots of information and resources as well as helpful advice and frequent updates thanks to your helpful feedback.